In the shop
Spring has sprung here in France – the new shipment of solid and multicoloured organic cotton is in the shop!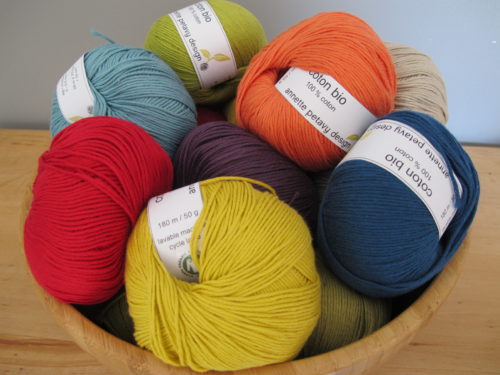 Check out the blog and follow me on Instagram and Facebook in the days and weeks to come – I will be posting lots of project ideas using this beautiful yarn!
YouTube podcast no 7
I finally did it again – recorded a new video podcast in English! Please feel free to subscribe to my English YouTube channel.
Stitch patterns for mosaic crochet – sources and design
Let's get back to our exploration of mosaic crochet worked flat. The technique is explained in my newsletter for January. But now that we know how to work mosaic crochet, how can we find or design pretty stitch patterns using this technique?
It's relatively hard to find structured information on mosaic crochet stitch patterns – I haven't found any books on contemporary mosaic crochet, and certainly no stitch dictionaries. I'd love to be wrong about this, so if you have book references, please let me know in the comments! You can find some mosaic crochet stitch patterns online, particularly via Pinterest. But the choice seems a bit limited.
However, there is one major source for stitch patterns not to be neglected: patterns for mosaic knitting!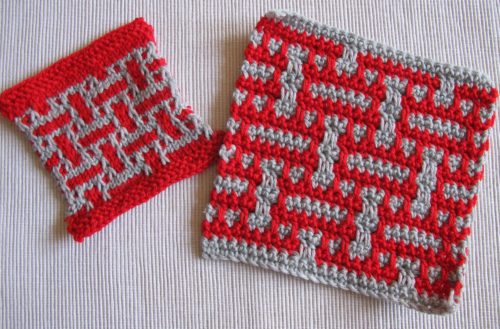 This is one of the rare cases when it's easy to go from knitting to crochet – the diagrams for mosaic knitting can be used for mosaic crochet without problems. Of course, as illustrated in the photo above, the resulting fabric will be quite different. Both swatches above were made in my DK weight merino, the one on the left knitted on 4 mm needles and the one on the right crocheted with a 5 mm hook. (The pattern comes from Barbara Walker's book Charted Knitting Designs).
And if you want to draw your own stitch patterns? It's not very difficult, but you need to follow a couple of rules – one of which I discovered by breaking it.
The first rule is to alternate colours every second row – remember that the "active colour" is indicated by the selvedge stitch.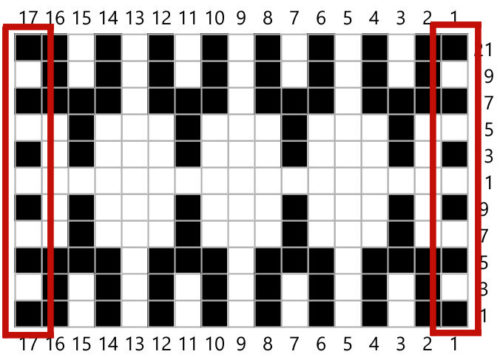 The second rule relates to how you place the vertical lines in your diagram. Horizontally, you can do pretty much whatever pleases you, but vertically, there is a rule that must be strictly applied: all vertical lines must start and finish on a row where the colour of the line is the active colour.
When I tried to make my own diagram for mosaic crochet the very first time, I didn't follow this rule, and it didn't go well.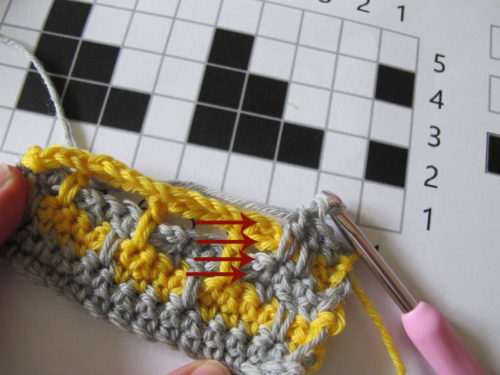 Four rows of chain arches to work around, that's far too many!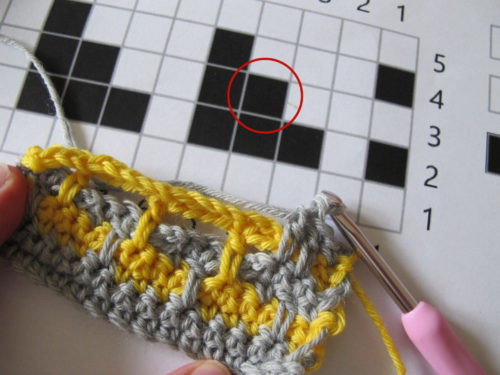 And even if I tried, the end of the troublesome vertical line (circled in red in the picture) would be covered with grey yarn, and not be yellow.
All chain arches worked in order to skip stitches on two rows (worked in the opposite colour) must be "embedded" by dc's on the following row – or we will face an unsolvable problem.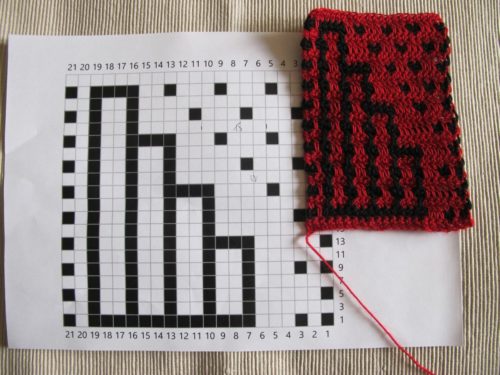 As you can see, vertical lines can be very long or very short (a dot rather than a line). As long as you follow the rule to start and finish on a row where the colour of the line is the active colour, it works perfectly.
Please feel free to share your comments and suggestions below – and if you find interesting stitch patterns or design your own, I would be thrilled to see them!
Perhaps you will also start to experiment with mosaic crochet in less expected ways…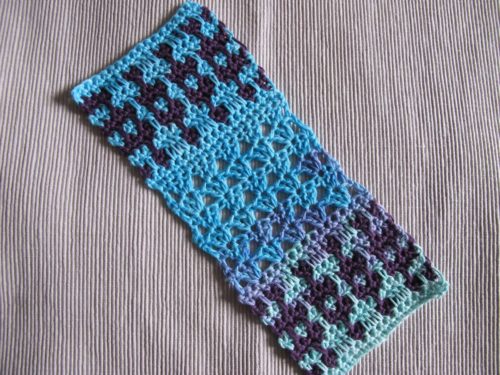 See you soon!