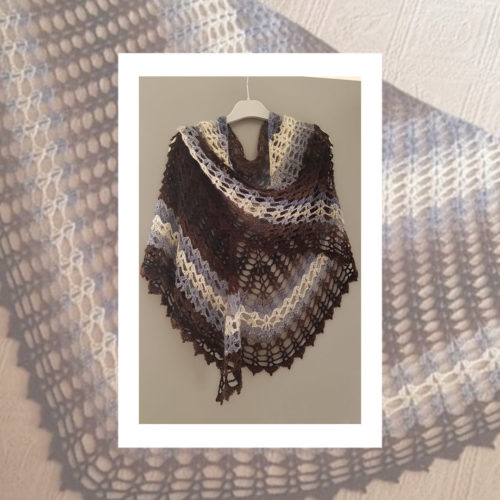 Many thanks to Sylvie for sharing her beautiful version of the Blue Song shawl, designed by EclatDuSoleil.
Sylvie substituted the laceweight yarn in the original version by the Zauberball 100, col 2398. She had two 100 g balls and started the second one to work the last 7 rows. She made version 2 of the shawl, with a four-row border.
Worked as written, this makes for a large shawl with a wingspan of 1.80 meters, 73 cm high at the tip. Sylvie thinks that you could make it using only one 100 g ball, by working only 28 rows for the center and then the four rows of border (version 2). Her estimate is that it would then be about 1.50 m across and 64 cm high at the tip.
Thank you so much, Sylvie, for sharing both your finished shawl and your ideas!